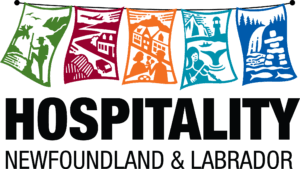 The successes of the tourism industry in Newfoundland and Labrador have not happened by accident. Countless supporters have worked diligently to ensure that our industry prospers, and as such have given freely of their time, often at personal expense because they are passionate about this industry. They are true advocates of the industry creating positive changes. The Tourism Champion Award recognizes individuals, companies, or organizations who give selflessly of their time and energy to champion the interests of and enhance the tourism industry.
Please note: 
Nominees must be approved under the Tourism Assurance Plan. Learn more.
Nominees must be members of Hospitality NL in good standing.
Only complete nomination forms will be accepted.
Nominations must adhere to the word limit and supporting documentation guidelines.
To submit a nomination for the Tourism Champion Award, complete the following 4-part nomination form.
*Deadline for submission Tuesday, December 20th, 2022*
2023 Tourism Champion Award