Tourism Corporate Partner Award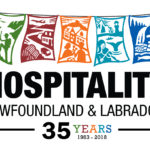 It is a pleasure to work with you! This is the kudos our industry wants to extend to the recipient of the Tourism Corporate Partner Award – a business-to-business partner that has been successful in developing creative and effective alliances within the tourism industry that improve Hospitality NL's ability to meet its mission of advancing growth in the tourism industry. Development of collaborative partnerships with tourism businesses province-wide is a key component of this award. This corporate partner may be, but is not limited to, non-traditional organizations such as: packaged goods manufacturer or supplier; retail operation; or service provider or supplier.
Please note: Nominees must be approved under the Tourism Assurance Plan. Learn more.
To submit a nomination for the Tourism Corporate Partner Award, complete the following 4-part nomination form. Deadline for submissions EXTENDED to Friday, December 7, 2018.