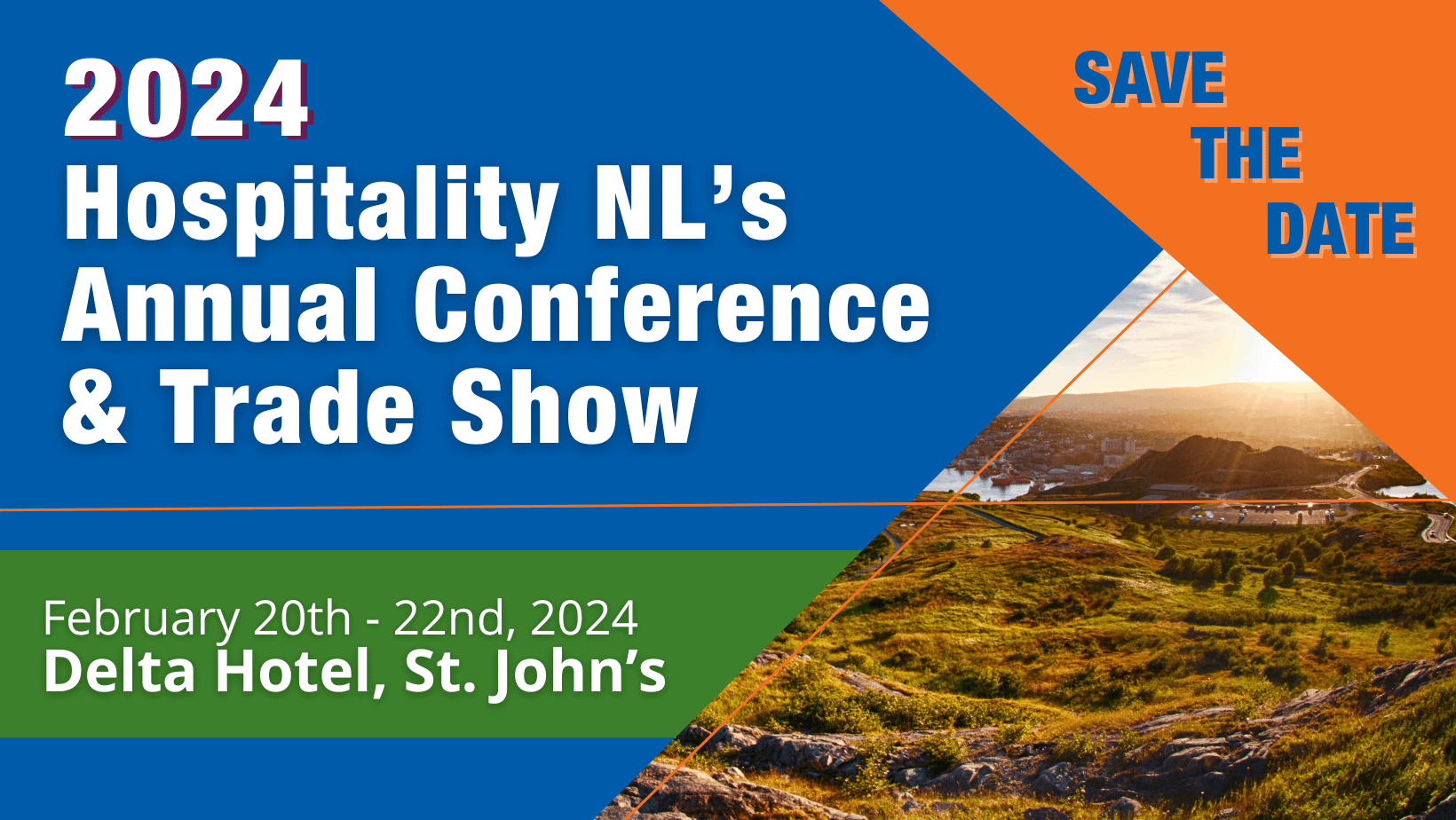 The 2023 Annual Conference and Trade Show will be held from Tuesday, February 28th to Thursday, March 2nd, 2023 in Gander, Newfoundland and Labrador.
Conference Information
Operating in a highly competitive and rapidly changing environment, tourism businesses in Newfoundland and Labrador are continually seeking new paths of opportunity to develop and grow their business. As more and more destinations look to pursue the potential that tourism offers, the importance of leveraging tourism networks and collaborative development opportunities have never been greater.
Hospitality Newfoundland and Labrador's Annual Conference and Trade Show offers tourism operators and stakeholders in the province an exclusive opportunity to grow their industry network, enabling further development of their business and driving tourism demand.
Hospitality NL's Conference and Trade Show will empower and enable tourism operators — from all sectors and all regions — to identify the best path forward to new levels of success by using the tools, trends, and knowledge shared from the conference to immediately and effectively enhance their business. The program will offer delegates an insight into how to best identify their strengths and weaknesses in order to maximize opportunities for business development and growth while maintaining their competitive edge.
What's in it for you at Hospitality NL's Conference and Trade Show?
Every year, delegates leave Hospitality NL's Conference and Trade Show with greater knowledge, new supports and an expanded business network. From first time delegates, to those who have not missed a single conference, all agree it is an event you do not want to miss!
Aside from meeting people who share the same challenges you face in growing your operation, you will meet the people who are working on, and are a part of, the solution for you!
You will meet other operators from your region or other parts of the province who can be part of your professional network. They are the people you call when you have questions about operational matters, to whom you refer your customers, and who refer their customers to you!
You will meet potential partners from supplier organizations, government, or municipalities, who all have ways to support what you do to grow your operation and destination.
You will be inspired by tourism experts and specialists who will motivate you to think or plan differently to make your operation more competitive and more profitable.
Hear from government officials about what they are doing to solve the challenges and seize the opportunities that exist for growing tourism in your region.
Who will be there?
Hospitality NL's Conference is the largest gathering of tourism services, attractions, and destinations in Newfoundland and Labrador each year. Generally, there will be hundreds of delegates from all over the province representing:
Private tourism businesses, such as accommodations, restaurants, tour operations, adventures, outfitting, attractions, etc.
Non-profit cultural, community and natural attraction providers, such as parks, interpretation sites, theatre groups, festivals, events, etc.
Suppliers of tourism products and services, both as delegates and as Trade Show Exhibitors, making it easy to find the people who may have solutions to your business needs.
Destination Management Organizations, regional tourism associations/networks, and sector association groups.
Municipalities who are engaged in tourism development and operate tourism related events and attractions.
Provincial and Federal government departments and agencies that are engaged in tourism and economic development.
What is the purpose of the Conference?
At our annual Conference, Hospitality NL wants to ensure that every tourism manager, owner, operator, and leader in Newfoundland and Labrador is equipped to achieve success in their organizations and destinations. We want to work towards new levels of collaboration and innovation that drive demand for tourism products and services across Newfoundland and Labrador. We know the incredible potential of tourism and we want to ensure we reach our potential as we continue our development as a premier destination. We want to celebrate the tourism industry and its diverse services, products, and attractions which can only be found within our province. We invite you to join us!