2017 Municipal Elections
Municipal elections are taking place in Newfoundland and Labrador on September 26, 2017.
As tourism operators from all over the province, you can ensure the priorities of the travel and tourism industry count in upcoming municipal elections. With over 2,600 tourism businesses present in all regions of Newfoundland and Labrador, helping generate almost $1.13 billion in spending every year and accounting for 9% of total provincial jobs, you are able to ensure the contribution and potential of the tourism industry are known and that the needs of our industry are on the minds of all candidates.
It is important to reach out and let candidates in your municipality know the issues important to you as a tourism operator. You give a face to the story of how important our sector is to your community, district and region as well as Newfoundland and Labrador's future economic and social development as a whole.
GET INVOLVED
There are many ways for you to get involved in the 2017 municipal elections:
Attend a candidate's debate.
Write to municipal candidates to help them understand the role they play in the success of tourism in NL – see below.
Follow candidates on social media to learn what they are saying about the tourism industry and where they stand on key issues.
Use #TourismMatters online to bring attention to opportunities available through travel and tourism.
Do you feel your municipality understands your tourism business? This is a chance to tell candidates what you need to grow your business. Ask questions and share your tourism story and the contribution you make to your community and region when candidates come knocking at your door.
Share:
Investments made in your business
Number of years in business
Future growth plans
Number of visitors you serve annually
Number of employees you have
Role your business plays in supporting your community
Ask:
As a municipal leader, how do you plan to support tourism economic development in the community?
Under your leadership, how will we address unlicensed accommodators who are operating in this town without proper approvals, licenses, insurance and/or taxes?
How will you address transportation and access issues in the town that impact residents and travellers (i.e. road maintenance)?
What will you do to help develop and support local festivals, events, natural and historic sites to attract more visitors to the community/region?
Write:
Send a letter to your municipal government discussing tourism priorities.
THE PRIORITIES
Tourism in Newfoundland and Labrador is a success story representing a strong and sustainable opportunity for continued economic diversification, especially in rural parts of our province. It is a versatile employer in our economy, distributing jobs in all working age groups of our population and in all districts. However, there are critical issues facing the future growth and development of the industry.
Industry achievements and milestones to date are a direct result of our innovative private-public partnership, the Newfoundland and Labrador Tourism Board, and the collective commitments made to develop our industry through Uncommon Potential: A Vision for Newfoundland and Labrador Tourism (Vision 2020). Through the partnership of the NL Tourism Board, industry and government are working together in a new and more cooperative and cohesive manner that has provided direct opportunities for greater industry input. It is essential to continue building upon this partnership to ensure that industry participation continues to grow and industry can become even more involved and more active in future directions.
In order to reach our industry's potential and achieve our collective Vision, key challenges and priorities must be addressed.
A. TOURISM STRATEGY
Government's role in the long-term viability of the tourism sector cannot be overstated and it is imperative that elected officials in all levels of Government recognize the tremendous potential of the tourism industry and commit to supporting its growth and development. There are several ways in which municipal governments can demonstrate support, including financial investment, policy initiatives and appropriate by-laws all designed to facilitate sustained growth.
Key areas of focus:
Destination Development, with investments in tourism based on strategic priorities established under the guidance of the NL Tourism Board and its regional partners.
Quality Assurance to ensure alignment with provincial standards designed to elevate offerings and provide consistency across NL.
B. TRANSPORTATION & SENSE OF ARRIVAL
Access and transportation continues to be a major strategic priority for the growth of the tourism industry. Travel to, from, and around the province, whether by sea, air, or road is often inhibited by issues of affordability, capacity, infrastructure and quality. Newfoundland and Labrador's tourism industry depends on an accessible, affordable and reliable transportation system in order to grow.
As outlined in the 2017-20 Provincial Tourism Product Development Plan, a sense of arrival is the welcome and warmth that people feel once they have reached their destination and efficient wayfinding, friendly service, warm and beautiful surroundings and a strong sense of place help industry meet and exceed the expectations of guests. Aspects of transportation, including roads, signage, trails and pedestrian infrastructure are all important sense of arrival experiences.
Key areas of focus:
Maintenance of roads and other infrastructure under municipal jurisdiction.
Providing access to enhanced visitor information locally.
Enhanced public transportation systems.
C. REGULATORY
Small and medium-sized businesses are not only the backbone of the tourism industry, but also the backbone of the economy. As such, it is essential that municipal, provincial and federal regulatory requirements and processes are flexible, straightforward and eliminate unnecessary red tape in order to facilitate business growth and development. For businesses to successfully operate in a supportive and innovative environment, a concerted effort must be made to ensure legislation is effective and enforced.
Key areas of focus:
Ensure level playing field by addressing unlicensed and unregulated accommodations at a municipal level (click to learn more about this provincial issue).
Ensure Room Levies are tourism industry led, focused and managed with the monies collected re-invested in tourism marketing and tourism development.
Ensure protection and preservation of critical tourism natural and cultural resources and assets through municipal policy and regulatory frameworks.
Comprised of primarily small- to medium-sized businesses, tourism services and attractions support the needs of a growing economy by providing the foundation of services (accommodations, transportation services, restaurants, etc.) that other business sectors need to grow, attract workers and leverage private investment thereby supporting sustainable and viable communities. Through a commitment to the sustainable development of the tourism industry, we can grow visitation, spending and tax revenue and continue to create employment opportunities for residents. Our industry has established a long-term path to reach the goals of our provincial tourism strategy Uncommon Potential: A Vision for Newfoundland and Labrador Tourism (Vision 2020), and we remain steadfastly committed to it. Tourism is a sound investment and with investment and public policy changes, tourism is part of a balanced solution to growing economic opportunities and diversification in Newfoundland and Labrador.
Tourism in Newfoundland & Labrador means: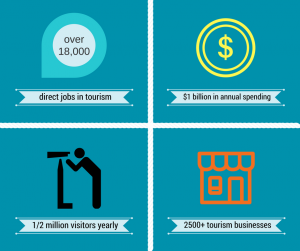 Tourism in Canada is big business!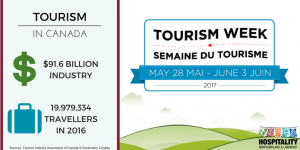 Tourism is a global economic engine