Food & Beverage Service
This one-day workshop provides an overview of the knowledge and skills required by food and beverage servers. It will be interactive and practical and you will be able to incorporate the acquired skills immediately in your workplace. A must attend workshop for new servers or for those interested in improving their skills. For more information [...]
This one-day workshop provides an overview of the knowledge and skills required by food and beverage servers. It will be interactive and practical and you will be able to incorporate the acquired skills immediately in your workplace. A must attend workshop for new servers or for those interested in improving their skills.
For more information or to register for an upcoming workshop, please contact Hospitality NL's Training Coordinator, Allie Bourden.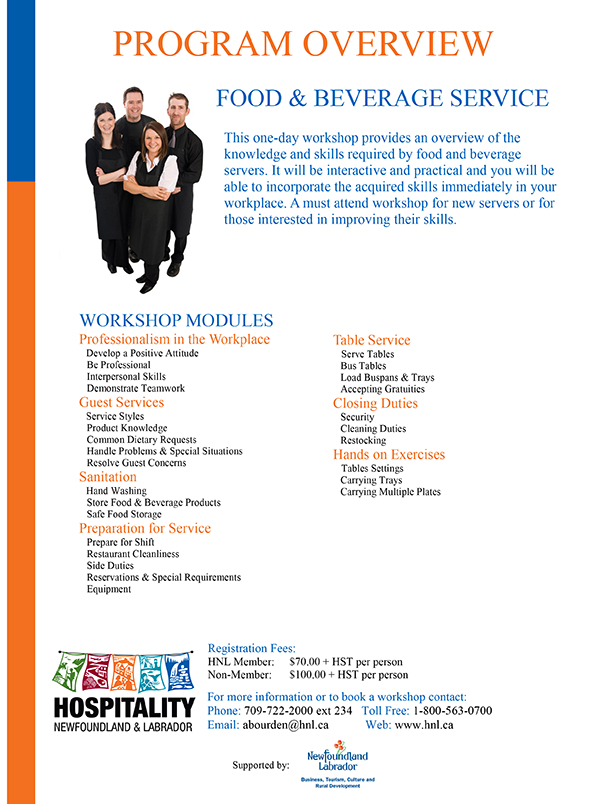 Partners
emerit has been developed by the Canadian Tourism Human Resource Council (CTHRC) in collaboration with tourism industry professionals. It has become synonymous with excellence, credibility, and professionalism in the Canadian tourism sector. For more information go to www.emerit.ca.

The Discover Tourism career awareness program was developed to communicate employment and career opportunities in the tourism sector to a range of target audiences including Youth, New Canadians, Persons with Disabilities, Pre and Post Retirees.

The Canadian Academy of Travel & Tourism (CATT) focuses on building partnerships between education and industry in order to foster the next generation of Canadian travel & tourism leaders.