Hospitality NL, in partnership with the Department of Tourism, Culture, Arts and Recreation, is pleased to announce that we'll be offering our nationally-recognized customer service training program, Service Best, at a discounted rate for 2023. Service Best is a full-day workshop that teaches tourism businesses and employees how to create memorable customer experiences, identify and respond to customer needs, and turn dissatisfied customers into loyal fans. As the tourism industry builds back from the impacts of the pandemic, it's important to ensure the people working in the industry have the skills and knowledge to exceed customer expectations. As Hospitality NL celebrates its 40th Anniversary in 2023, we will be offering our Service Best training program at $40 for a limited time.
The workshop will cover how to…

1. Use the techniques associated with Service Best service:
-Perception is all there is
-Everyone has a customer
-Total Product Concept
-Moments of Truth
-Proactive LEARN method

2. Use the techniques associated with the skills for service recovery:
-Encouraging customer feedback
-Handling difficult situations
-Reactive LEARN method

3. Use the techniques for developing and maintaining a Service Best attitude:
-Communication
-Identifying hot buttons
In partnership with the Department of Tourism, Culture, Arts & Recreation, the regular registration fee has been subsidized to $40.00 + HST per person for members and $102.50 + HST per person for non-members. This special offer is available for a limited time only.
Regular fees are $62.50 + HST for Hospitality NL members and $125.00 + HST for non-members. Available only for tourism businesses and organizations in Newfoundland and Labrador.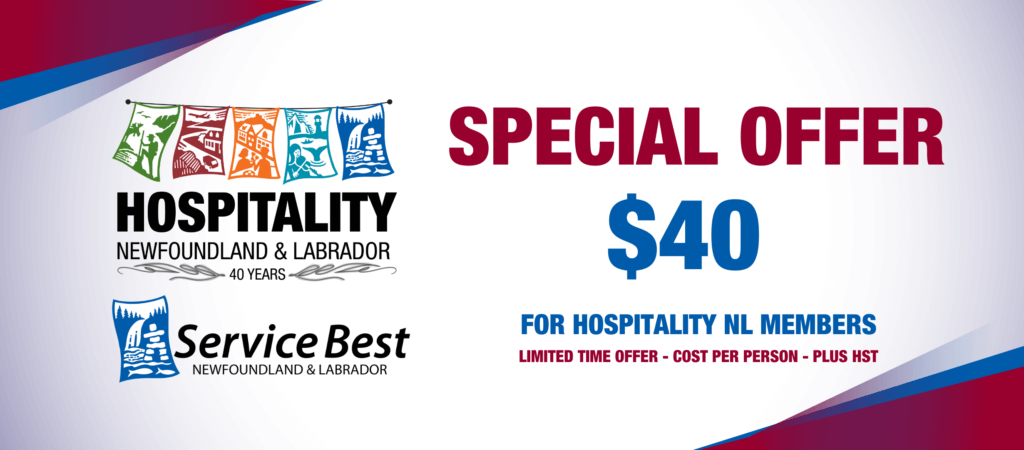 For information or to or book a workshop, please contact: Manpreet (Manny) Kaur at 709-722-2000 ext. 235 or mkaur@hnl.ca.     
Supported by: