The 2023 Trade Show will be held at the Albatross Hotel, Gander.
An important component of Hospitality NL's Annual Conference and Trade Show, it is the premier tourism trade show in Newfoundland and Labrador where suppliers can capture the attention of such a diverse group of tourism stakeholders.
Booth allocation will be on a first-come, first-serve basis. As a limited number of booths are available, your booth will only be confirmed as sold once your payment is received. Scheduled networking breaks held in conjunction with trade show hours ensure good traffic flow and business/networking opportunities.
Check out Trade Show Manual here.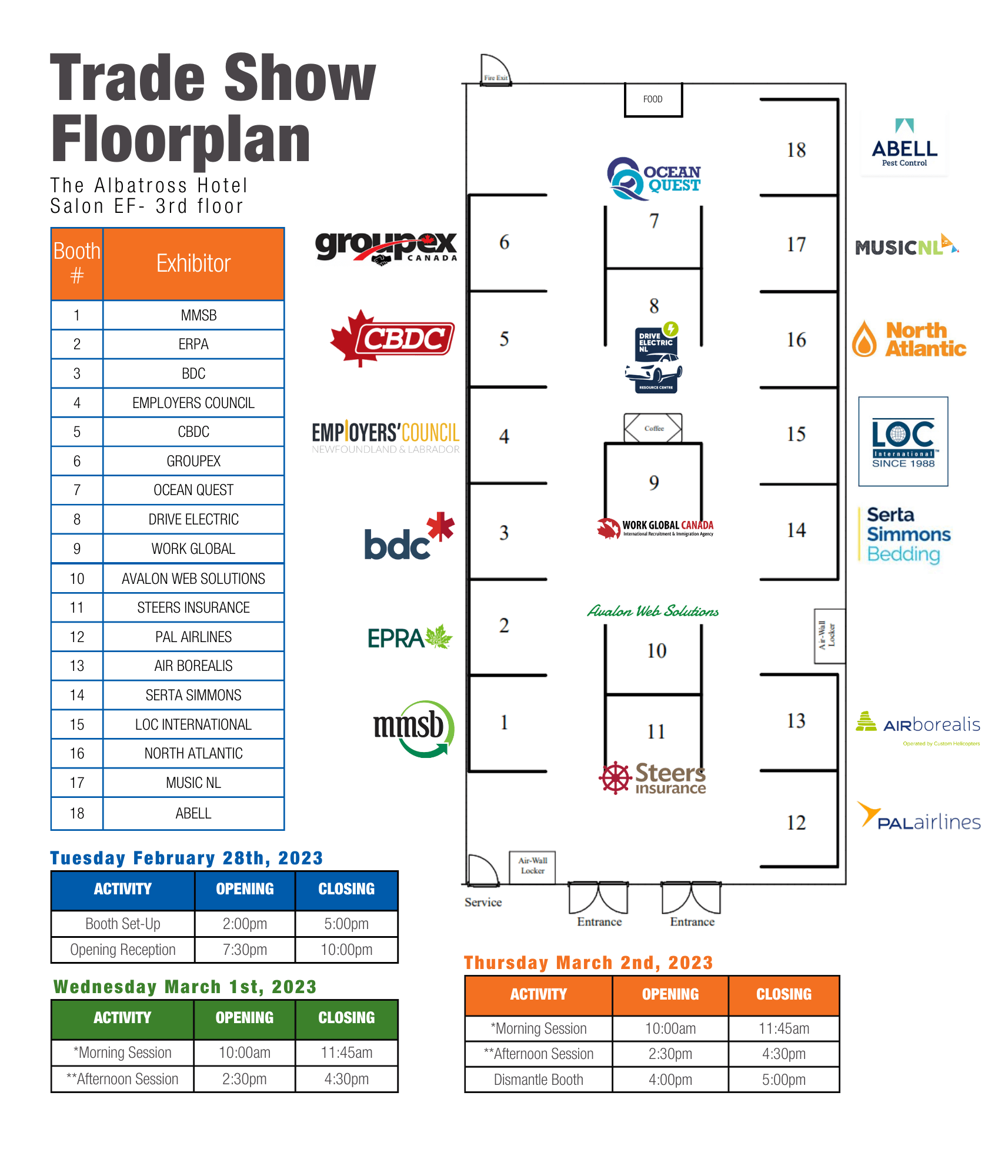 Exhibitor Profiles:
1. Multi-Materials Stewardship Board [MMSB]
Contact Information:
www.rethinkwastenl.ca
Julia Canning, (709) 631-8502
jcanning@mmsb.nl.ca
Providing information and educational resources about waste management in NL
2.  Electronic Products Recycling Association [ERPA]
Contact Information:
www.erpa.ca
Michelle Marley
michelle.marley@epra.ca
We are an industry-led, not-for-profit organization that operates regulated recycling programs across Canada. We ensure that end-of-life electronics are handled in a safe, secure and environmentally-sound manner.
3. BDC
Contact Information:
www.bdc.ca
Mike Ball, (709) 293-0835
mike.ball@bdc.ca
As Canada's development bank, BDCV is proud to be a partner of choice for all entrepreneurs looking to access the financing and advice they need to build their businesses and tackle the big challenges of our time.
BDC is a long-term, flexible lender. Our financing protects your cash flow with a higher percentage of financing and repayment schedules that fit your seasonal cash flow needs.
For more information on BDC financing and advisory services, as well as free tools and articles, visit BDC.ca or join BDC on social media.
4. Newfoundland & Labrador Employers Council
Contact Information:
www.nlec.nf.ca
Jeff Butt, (709) 368-6532 ext.226
jbutt@nlec.nf.ca
Our vision is to improve the competitiveness of Newfoundland and Labradors business environment. We achieve this vision through credible, solutions-focused public policy recommendations, effective advocacy, and support to individual employers. Our positions are developed through diligent, evidence-based research, input from members, and collaboration with key stakeholders. Our research and recommendations have a strong influence on decision makers. Issues of importance include competitive taxes, improving human capital, competitive regulations, and fiscal responsibility.
As CBDCs, we assist in the creation of small businesses and in the expansion and modernization of existing businesses by providing financial and technical services to entrepreneurs. TYPICALLY, OUR SERVICES ARE TARGETED TO ENTREPRENEURS WHO REQUIRE CUSTOMIZED FINANCING NOT NORMALLY AVAILABLE FROM TRADITIONAL SOURCES.
We are not-for-profit community-based organizations run by volunteers from the local business community who firmly believe in improving the economic viability of their communities.
Our mission is to help Canadian foodservice operators reduce costs by providing a package of quality branded goods and services at prices only available through volume purchasing by partnering the needs of our Members and Suppliers. Understanding the needs of our customers and value that our suppliers provide.
Established in 1997 with the aim of providing high quality service to the scuba diving community within Newfoundland and Labrador. As a two time national Sustainable Tourism Award winner, CanGeo Travel Partner, and many more accolades, Ocean Quest Adventures has gained not only the respect from the industry locals, but now has a long-standing reputation nationally and internationally as a premium Canadian tourism destination.
8. Drive Electric NL- Resource Centre
Contact Information:
www.driveelectricnl.ca
The transition to 
ELECTRIC

 is already well underway but there are a lot of myths and misconceptions. Drive Electric NL is here to answer questions and deliver the right information. We provide straightforward resources and stories from real owners, neutral to brands, to help you wade through any uncertainty to become part of the transition to the 

FUTURE

 of transportation.
We provide Full Turn-Key Labour Market Solutions to Canadian Employers as well as Canadian Immigration Services.
10. Avalon Web Solutions – Service Delivery Robots & Self Ordering Systems
Contact Information:
https://avalonwebsolution.ca
Norbert Obi, (709) 740-0913
info@avalonwebsolution.ca
Avalon Web Solutions is a locally owned Software as a Service (SaaS) shop, with expertise in software and hardware for in-store Self Ordering Systems and Service Delivery Robots, Empowering restaurants and indeed hospitality outlets to reduce business operational costs, enable business continuity while creating a delightful service delivery as well as enhancing customer experience for their patrons.
With an independent Steers broker by your side, you'll always have the coverage, advice, and advocacy you need. Because we believe that good business starts with great customer service. The kind that has sustained our company for nearly one hundred years. The same kind that generations of Newfoundlanders and Labradorians have come to know and trust. It's the reason we're the largest independent insurance broker in the province today. Well, that and we just love insurance.
PAL Airlines is proud to support Hospitality NL and it's members by providing robust scheduled charter and cargo air throughout Eastern Canada. It's the promise of safety, service and reliability to you that makes us who we are and ensures that flying with PAL Airlines is a travel experience you won't soon forget. We encourage you to book your next flight with PAL Airlines to discover what makes travelling with us so special.
We're bringing the North together like never before! Through an historic agreement between the Innu and Inuit of Labrador, together with PAL Airlines, Air Borealis is an airline all can take great pride in. As a company, we have a deep respect and connection to the community, to the environment, and to the people of the North. And we take our corporate responsibility to provide sustainable air transportation, and the highest level of customer service, to heart. We look forward to sharing in this new journey with you and hope to see you on board soon!
We are one of North America's largest bedding manufacturers, the company behind the Serta®, Beautyrest®, Simmons® and Tuft & Needle® brands. Serta® and Beautyrest® are among America's best-selling mattress brands – iconic names that stand for authentic quality, innovation and integrity. Giving people great sleep is the ultimate aim of everything we do. That's why at Serta Simmons Bedding we work tirelessly – so you can rest easy. And we've been doing just that for well over a century.
LOC International is the only Canadian supplier to cater exclusively to the needs of hotel owners and operators. As a result, we've developed a deep understanding of the realities of your industry. Whether you're looking for accessories, small appliances or innovative electronics, our hospitality experts can help you select equipment that fit your requirements, allowing you to offer sophisticated hotel rooms that are sure to impress your guests.
High quality fuel offered with competitive pricing and reliable service. Fuel and equipment are available over most of the island, making our products readily available to customers.
Music cultivated at home and celebrated everywhere. Leading Newfoundland and Labrador's music community and industry through: Advocacy, Education, Connection, Programs and Services, & Partnerships.
Abell Pest Control has been providing top quality pest control services for residential and industry customers since 1924. We are 100% Canadian and we guarantee our results. With offices across Canada and parts of the USA, we have you covered.
If you would like more information on the Trade Show,
contact Linda Hickey, at 1-800-563-0700, ext: 227 or lhickey@hnl.ca