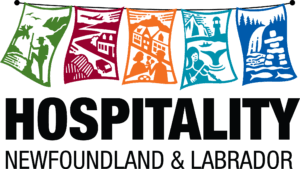 Presented by the Hospitality Newfoundland and Labrador, this award will recognize an individual or company in the Food & Beverage sector within the province who exhibits exceptional dedication to quality service and outstanding commitment to the tourism industry, making a solid contribution to the communities in which they live.
Please note: 
Nominees must be approved under the Tourism Assurance Plan. Learn more.
Nominees must be members of Hospitality NL in good standing.
Nominees must be in operation for a minimum of two years.
Only complete nomination forms will be accepted.
Nominations must adhere to the word limit and supporting documentation guidelines.
Previous Award Winners:
2023       Joe Bowers, Taproom Manager – Quidi Vidi Brewing Company
Previously known as the Restaurant Association of NL Restaurateur of the Year Award
2015       Chef Shaun Hussey & Chef Michelle LeBlanc, Chinched Bistro, St. John's
2014       Chef Roary MacPherson
2013       Bonavista Social Club, Upper Amherst Cove
2012       Raymonds, St. John's
2011       Twine Loft, Trinity
2010       Atlantic Grocery Distributers (AGD), Bay Roberts
2009       Chef Steve Watson
2008       Not awarded this year
2007       Lighthouse Picnics, Ferryland
2006       Café Broadway, Corner Brook
2005       The Wine Cellar, Glynmill Inn, Corner Brook
2004       Guv'nor Pub & Eatery, St. John's
2003       Cathy Lomond, Portside Restaurant, Hotel Port aux Basques, Port aux Basque
2002       Chris Sheppard & Stacy Flemming, Gaffer's Gourmet Bistro, Clarenville
2001       Nick McGrath, Terrace Dining Room, Labrador City
2000       Bonavista Restaurant, Fairmont Newfoundland, St. John's
1999       Terry Chaffey, Mount Pearl Hotel, Grand Falls-Windsor
1998       Lovelett Au, New Moon Restaurant, St. John's
1997       Bart Philpott, Baie Vista Inn Ltd, Baie Verte
1996       Paul Lannon, Air Canada, St. John's
To submit a nomination for the Food and Beverage Award of Excellence, complete the following 4-part nomination form.
*Nominations open on Monday November 27th, 2023 & close on Wednesday December 20th, 2023 at 11:59pm (NST).
2024 Food & Beverage Award of Excellence